15 December, 1989
Just weeks after Romania's Dictator ,Nicolae Ceaușescu is unanimously re-elected as the general secretary of Romania's communist party, police evict a priest, Laszlo Tőkes, a critic of the leader, from the city of Timișoara. That night, many of his congregation surround his home to  protest against the decision.
16-20 December
Community support for Tőkés increases and transforms into a general protest against the regime, which is met with force. About 100,000 people crowd into the city's main square, calling on Ceaușescu to resign.
21 December
Despite the growing unrest, tens of thousands of people are bussed to Bucharest's Palace Square to hear Ceaușescu give his annual speech. However, they begin to chant "Timișoara! Timișoara!". A stunned Ceaușescu calls for the crowd to remain in calm, and offers to raise salaries. But his authority is dissipating and the televised images reveal his weakness to the whole country. Crowds flood the city centre and are met with force by the army.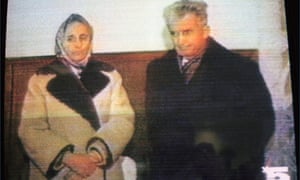 22 December
Clashes continue. Ceaușescu and his wife flee an angry mob by helicopter. The Romanian army changes sides and backs the protesters. Ion Iliescu takes over as president.
23-24 December
Clashes continue in Bucharest, in a standoff between different factions that sees the National Salvation Front, led by Iliescu, come out on top. The majority of the revolution's 1,100 deaths follow Ceaușescu's departure from the scene.
25 December
Ceaușescu and his wife Elena are judged in a military court in the town of Târgoviște, found guilty and immediately executed by firing squad